WIGWAM TERMS & CONDITIONS
Last updated 24 March 2021 (Version 10)
Download a PDF version of the Wigwam Terms & Conditions »
Contents
General Terms and Conditions of Business
The National Diving & Activity Centre Limited (NDAC Ltd) is the supplier of the on site accommodation that appears on this website. When you purchase on site accommodation or book with a voucher from The National Diving & Activity Centre Ltd (NDAC Ltd) or with a voucher provided by an external provider you become legally bound by these terms and conditions specific to that said agreement. Please do not proceed and book your accommodation or complete a booking until you have read, understood and accepted these terms and conditions in the first instance. These Booking Terms and Conditions apply to the booking of "The Standard Wigwams" The "Deluxe Wigwams" and The "VIP Wigwams" they will be known as the "Wigwams" this will also include any ancillary products that are associated to NDAC's Terms and Conditions (T&C's) of business.
These booking T&C's contain important information concerning bookings by you and members of your party and, accordingly, you acknowledge and agree that you shall ensure that all members of your party are aware of and accept these Booking Terms and Conditions. At no point shall any variation to these Booking T&C's be binding unless agreed in advance in writing by NDAC Ltd. Any typographical clerical or other error or omission in any booking confirmation or other associated documentation issued by NDAC Ltd (including any electronic documentation, emails, printed literature or SMS Text) shall also be subject to correction without any liability on the part of NDAC Ltd. NDAC Ltd will always reserve the right to make changes to the Wigwams, whether to conform to any applicable safety or other statutory industry requirements or otherwise at short notice.
No booking shall be deemed to have been accepted unless accepted in writing by NDAC Ltd (which shall include our email confirmation of booking if booked via our on line booking system). These Booking T&C's incorporate our Privacy Policy, and assumption of Risk and Release of Claims and Rules of your stay.
Refunds and Cancellations
NDAC will refund booked Wigwams and vouchers bought direct from the NDAC Ltd within 14 days of purchase minus a £5.00 administration fee per booking, providing it is also 14 days or more before the date of stay. After 14 days from booking and/or for less than 14 days before the stay, no refund will be given.
If you are unable to attend your booking, you must give a minimum of 48 hours notice in order to change your booking, otherwise your booking will be lost with no replacement, voucher or refund provided.
Payments made by debit card or credit card will be refunded to the same card or, if the card has subsequently expired been lost or damaged payment shall be made by cheque. Any payment made by gift card or voucher will be refunded by the issuing of a replacement voucher or gift certificate for the same value. Where a multiple form of payment has been used we reserve the right to refund or amend by credit, cheque, voucher of gift card.
Any customers choosing to depart early, or failing to arrive, will not be compensated or refunded in anyway, unless deemed by the company as reasonable. Choosing to depart early will deem your stay lost with no further validity or redemption. Any concerns or issues must be raised with us at the earliest opportunity to allow us to act on them during your stay.
Any concerns not brought to our attention during your stay, and instead highlighted after your departure, will not be deemed as reasonable and as such will not be refunded in part or whole, or compensated in any way. We take feedback seriously, and will act where possible to make improvements.
Where gift vouchers have been bought from external providers and a booking has been made, no refunds or credit notes will be given. Should you need to re-schedule a booking you have already made, you will need to give 14 days notice. A £5.00 administration charge will apply to each booking and will be subject to booking availability and voucher validity dates. Vouchers will be lost for cancellations not within this notice period. If you fail to turn up to your Wigwam booking you will not be able to reschedule bookings, no refunds, alternatives or compensation will be given and voucher validity will be lost.
Sometimes the NDAC may have to cancel Wigwams for unforeseen circumstances, an alternative date subject to availability will be offered or an alternative experience or credit note equivalent to the value purchased but no refunds or compensation will be given.
Activities
Any activities booked or cancelled are separate to the Wigwam booking. Therefore we cannot cancel a Wigwam booking, if your activities are cancelled or not running. In this instance the Wigwam refunds and cancellation policy above applies.
Activities (Wire Zip Slide, Atlantis Aqua Park & Giant 3G Swing) generally only run at weekends, bank holidays, some school holidays and occasional mid week dates. If you are planning to take part in activities during your stay, please check availability prior to booking your accommodation.
Hot Tub Faults
If a Hot Tub develops a fault, our on-site team will always endeavour to carry out a repair. However if the Hot Tub is rendered unusable for your stay, we will issue you an NDAC Voucher. These vouchers can be used throughout the site, either during your stay, or at a later date.
In these circumstances, if you have paid the full NDAC listed price for your stay you will be offered a £30 Voucher. If you booked your stay via a third party online deal you will be offered a £15 Voucher.
Vouchers last six months from issue and are non transferable. A single voucher will be issued, irrespective of the number of nights stayed.
Gift Vouchers
All vouchers must be booked/redeemed online at ndac.co.uk. Do not arrive at the venue expecting to redeem your accommodation voucher without first booking on the NDAC website. NDAC Ltd will not be held liable for your costs incurred if you do not follow the procedure set out in these Terms and Conditions. Bookings are not finalised until you have received written confirmation from The National Diving & Activity Centre.
Validity & Extensions
Each voucher will show a unique code, which must be quoted when dealing with NDAC and will be used to identify your booking and proof of purchase. Vouchers and the associated references must be kept safely and securely. Please check your expiry date, you must book and complete your accommodation booking prior to the expiry date on your voucher. NDAC will take no responsibility for any loss you may incur as a result of impersonation or identity fraud. A voucher will be deemed to be invalid if it is out of date unless you have written prior agreement from NDAC or an external provider (the validity date is clearly stated on the voucher).
NDAC strongly recommends that accommodation is booked as early as possible to avoid disappointment.
Covid-19
If you have been unable to book your accommodation before the voucher's expiry date due to COVID 19, then upon contacting NDAC, we will extend the validity of the voucher for another 6 months providing you contact us prior to the expiry date on the voucher. This only applies to customers with a NDAC voucher with a voucher code prefix of NDAC.
A voucher can only be extended for 6 months once. Once a voucher has been extended it cannot be refunded. Vouchers can only be extended if they are still inside their expiry date.
Prices
Subject to any terms agreed to in writing between NDAC and you, our Standard charges and fees shall be calculated at our current rates and full payment shall be due at the time of booking along with any specific offers. Any discounted and promotional codes must be given at the time of booking as prices of Wigwams may vary throughout the year. In the event of an order being placed against an accidental incorrect price, we will endeavour to inform the purchaser of the error within 5 days of the purchase being made. We will allow the purchaser to either cancel the booking or choose to pay the additional difference in price. Vouchers and purchases from external voucher providers may vary, NDAC shall not be held responsible for purchases or prices displayed on external websites and other gift experience companies. If you are in any doubt, you can find most if not all your answers on the NDAC website or call the Centre to discuss your concerns in the first instance.
Availability
All Wigwams are offered subject to the availability of advertised dates. Offers from external voucher providers may vary and are inclusive of weekday and weekend availability. These offers or vouchers can not be extended past the expiry date. Bookings should be made as far in advance as possible especially during peak times (weekends and school holidays). We suggest if you plan to book a Wigwam or purchase a voucher for a date at short notice, you should call us to ensure there is availability before completing the transaction. You should not make any travel or booking arrangements in connection with the Wigwam until you have received your booking confirmation with a date and time on it from NDAC. Where specific elements of the Wigwam are not available due to electrical or mechanical breakdown, we reserve the right to make reasonable substitutions on the day. If this is not possible we reserve the right to cancel the Wigwam at short notice. We regret such eventualities but in these circumstances NDAC is unable to reimburse travel, accommodation or any other expenses you may incur in relation to the cancelled Wigwam accommodation and any other associated activities.
Descriptions & Images
All descriptions contained on our website and in our marketing material are correct at the time of going to press.
Descriptions may be updated throughout the year as the Wigwams may change. The images used in all promotional literature to illustrate Wigwams are used as an indication only. NDAC shall not be responsible for the descriptions and images of external websites and gift experience companies.
Please note NDAC is a disused limestone Quarry, the Standard Wigwams are predominantly surrounded by Stone and Gravel and therefore may not be a suitable environment for all.
Booking in and out
Check in from 1600hrs (on day of arrival)
Check out and return keys by 1030hrs (on day of departure) housekeeping will be cleaning units from this time onwards.
Disabled Access
The Standard, Deluxe and VIP Wigwams are not suitable for disabled access at this stage.
Camp Fires & BBQ's
Deluxe or VIP Wigwams
There are strictly no camp-fire facilities available at the Deluxe or VIP Wigwams. Due to their wooden structure and extensive decking, no naked flames are allowed.
Standard Wigwams
Each Standard Wigwam has a free stone base fire pit for your own use while you are at site. You are only to use the fire pit areas for a camp fire only (you are not allowed to cook food over the open fires).
There are a number of stone BBQ's situated next to the play area as you come in the entrance. These are available for you to cook your own food and are also free of charge.
No disposable BBQ's are permitted on the site due to Health & Safety and Fire Regulations.
We also have the following items available at the NDAC site for the Standard Wigwams:
For the Standard Wigwams only, we have the following items available as a fire lighting bundle for £10.00:
Wood bundle £5.50 per bag

Kindling wood £3.00 per bag

Lighters £0.50p each

Matches £0.30p per box

Fire Lighters £1.50 per box

BBQ's FREE to all paying guests

Instant BBQ coal packs for £3.00
Showers, Toilets and Charging rooms
For the Standard Wigwams, we have a basic toilet and shower block within the Wigwam village. This is situated near Wigwam 18.
Please be aware that the toilets and showers in the Standard Wigwam Village are not currently suitable for disabled access, but plans have been agreed to upgrade the facilities in the future.
The changing rooms, further showers and disabled toilets can be found next to the main facilities building at the North-East corner of the car park.
View Cafe Bar and Picnic Areas
With breathtaking views overlooking our Chepstow quarry, the View Café Bar serves an extensive range of hot & cold meals as well as a wide selection of beers, wines and soft drinks from the licensed bar. We also have two very posh coffee machines that make a lovely freshly ground coffee, perfect to prepare you for a day of activities.
The View Café Bar is for everyone; Divers and visitors alike are able to sit inside or out on the decked veranda. When you sit at one of our tables with the stunning views across the water you'll see why we've named our Cafe Bar 'The View'!
Each Standard Wigwam also has it's own picnic bench available for you to use.
Bedding
The VIP/Deluxe Wigwams come with ready made bed, towels, complementary toiletries and basic cooking and washing-up equipment. The Wigwam contains a double bed and a pullout double sofa bed. The bedding included is for one couple, additional guests booked receive a deluxe bedding pack which includes a sleeping bag and pillow.
For Standard Wigwams you will be required to bring your own sleeping systems, towels and pillows with you during your stay.
We do hire the following items of equipment:
Sleeping Packs consisting of:
1 x Sleeping Bags £3.00 per person per night, or double sleeping bags for £5.00 per bag, per night.

1 x Pillow at £1.00 per person per night total
The whole sleeping pack can be hired for £5.00 per person per night. Items may be hired individually.
Kitchen & Cooking Facilities
The VIP/Deluxe Wigwams include a microwave, fridge, toaster, twin hob, kettle, pans, frying pan, cutlery, plates, bowls, cups and some cooking utensils.
It does not include a sharp knife, bottle opener or tin opener.
Mini Bar
For VIP & Deluxe visitors you can pre-order a mini bar for your accommodation. This package costs £20 and consists of:
1 Tin of Coca Cola (150ml)
1 Tin of R Whites Lemonade (150ml)
2 Bottles of shots from a selection of Mixed Vodka Shots (20ml)
Bottle of white wine (187ml)
Bottle of red wine (187ml)
2 Bottles of Premier Lager (330ml)
A selection of Deluxe Snack-Mix Crusti Croc (300g)
His and Her Chocolates
Water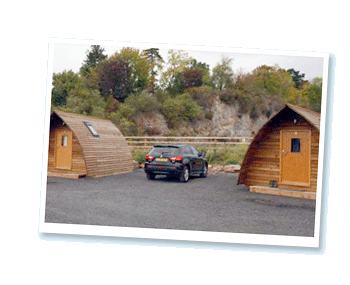 A standby tap is available for water and is situated next to Wigwam No1 (see map for details)
Car Parking
Please uses the bays provided by your wigwam and display your site pass at all times. Only one car per bay is allocated, all remaining vehicles must be parked in the main car park area and display a valid car pass. Car passes are collected from reception when you arrive.
Fire Action
A Fire Action information card is displayed inside each unit . Any person discovering a fire to cause concern should raise the alarm and call the emergency services and if possible to do so safely, attack the fire using the appliance from the wigwam safely. Larger 6kg Powder and Foam extinguishers are situated in the BBQ area next to wigwam No 5. Periodically the site shall conduct a Fire Evacuation Drill, notices of which will be displayed in all the public areas the large car park area is where you should muster if a drill is called. A small 1kg hand held fire extinguisher is situated inside each unit on the left hand side of the door. Do not take any risks and please do not return to your wigwam for any reason until authorised and safe to do so.
Smoking
For your safety and comfort while at site ALL our wigwams have been designated as "Non Smoking". Each Wigwam is fitted with a smoke alarm (please do not cover over the alarms) in the event of any fire outbreak please vacate the wigwam by the main door and muster yourself in the main car park area. If you are found to be or have been smoking inside any unit then a cleaning charge will be raised against you.
Please only smoke in the designated smoking areas which are clearly displayed with green smoking area signs.
Children/Under 18s
VIP and Deluxe Wigwams are not suitable for children and are only for adults over the age of 18. This is due to the risks associated with their location on a cliff edge.
Standard Wigwams are suitable for the whole family.
Wigwam bookings must be made by an adult over 18 who is staying in the Wigwam. Under 18s are welcome in the Standard Wigwams, but must have a responsible adult over 18 as part of their group.
Play Areas
There are two barked children's play areas on the site with sandpit, slide and swings. One by Standard Wigwams 18 & 19 and the other at the entrance to the Standard Wigwam area. There are a few children's toys on the decking of the View Cafe Bar and a covered area by the Wigwam toilet and shower block. Please be advised children play at their own risk and must be supervised by a parent or guardian at all times.
Pets
VIP and Deluxe Wigwams
Pets are not allowed in the Deluxe/VIP Wigwams. This is due to the risks associated with their location on a cliff edge.
Standard Wigwams
We do allow animals to stay with their owners in Standard Wigwams providing that they are kept under control at all times and on a lead. If the animal is not kept under your full control you will be asked to leave the Wigwam and you will not be entitled to any refund.
A £5 fee is charged per day, per dog to cover the additional house keeping and cleaning of the wigwam (payable on booking). Any dog mess must be cleaned by the owner prior to check out.
Security & Safety
Please ensure your Wigwam is firmly locked when leaving your room. CCTV is in operation throughout the site 24 hours a day and monitored for the purposes of crime prevention and public safety. This scheme is controlled by the National Diving & Activity Centre. For further information please contact us.Periodic checks will be carried out by NDAC staff and cars exiting/entering the site are also monitored.
You will be issued with a Wigwam key and a combination code for the main gate upon arrival.
During silent hours the main site gate will be locked. If you leave or return to the site during this time please ensure you lock the main gate after you have passed through.
Please keep 3m away from the quarry walls at all times.
Hot Tubs
The VIP Wigwamsinclude an exclusive hot tub on your own private decked area. Please read the VIP Hot-Tub terms and conditions of use before booking.
The Hot-Tubs are for VIP Guests only, they are not available to other Standard or Deluxe Wigwam guests or visitors to the site.
Pontoon Area and Water Area
When the centre is closed the water area is strictly out of bounds to you and your group. A high level security gate has been fitted to prevent access to the water area.
You are free to explore the site and a popular public footpath can be found adjacent to the main entrance. This will allow you safe access around the whole 55 acre quarry area. Please stick to the authorised routes only.
First Aid Kit
Is available upon request from the Shop and View Cafe Bar. A full list of local surgeries and Hospitals is available on the main NDAC website with a comprehensive list of phone numbers and post codes.
In the event of an emergency dial 999
A Defibrillator is also available and located by the main gate at the booking in unit.
Damages and Cleaning Charges
All damages, mess left in the cabins and losses (including keys) have to be paid for in full. The lead name on any booking will be responsible for payments.
Please leave the cabin in the clean and tidy condition you found it. Additional cleaning above reasonable useage will be chargeable at £10 per hour.
Camper Vans/Caravans
Camper vans and caravans are not allowed in the Wigwam Village area, except under exceptional circumstances. If you wish to stay overnight at the NDAC in your campervan/caravan you can use the NDAC main car park. The cost is £20 per night, paid in advance.
Discount Codes
Discount codes are issued subject to availability and can be withdrawn without notice at any time.
NDAC reserves the right to stop discount codes being used against specific products.
Only one discount code can be used per order.
Discount codes apply to both online, individuals and or groups who just turn up who wish to book
Venue Liability
NDAC except as otherwise provided in these Booking Terms and Conditions shall not be responsible for the loss, or damage, of or to any property or to person arising from the booking or Wigwam stay. NDAC shall not be responsible for the actions and quality of external providers or any loss or damage suffered by you whilst you are staying in a Wigwam. By part in an Activity with us you acknowledge that certain factors are beyond the control of NDAC and agree that neither NDAC shall be liable for the cancellation, postponement or alteration of any Wigwam booking or activity for reasons beyond its reasonable control including for weather-related reasons, mechanical failure or otherwise. In the event of an electrical or mechanical machinery break down you should expect reasonable substitutions without notice. The total liability of NDAC for any claim whatsoever in connection with the Wigwam or voucher or any course or experience shall be limited to the price paid for the voucher or booking.
Personal Belongings
It is the participant's responsibility to ensure that they are in possession of their personal belongings following their stay or experience. NDAC has no liability to compensate or offer replacements for items lost at our venue. Any lost property found will be kept for a 3 month period and if not claimed will be disposed off.
Visitors
Visitors who are not part of your booking or group are not permitted to visit or stay in the Wigwam during your stay. Any additional guests will be charged accordingly.
Restrictions
No children or pets are permitted in the Deluxe or VIP Wigwams due to the risks associated with their location on a cliff edge. Also due to their wooden structure and extensive decking, no naked flames are allowed.
The Standard, Deluxe and VIP Wigwams are not suitable for disabled access at this stage.
Feedback
This is very important to us and your views and comments are gratefully appreciated (both good and bad) so we can continue to improve the facilities and service. It is essential that any concerns or issues are raised with us at the earliest opportunity to allow us to act on them during your stay.
Customer observation forms are available for you to complete. Please hand them into a member of staff upon your departure. Alternatively you can contact us using the online Wigwam contact form.