Notice of site closure
The National Diving & Activity Centre is permanently closed. We are not taking bookings for leisure activities or public diving.
We'd like to thank all our customers for their support over the years.
Opening Times
Diving Times
We are open for scuba diving during weekends.
Activity Times
The Wire Zip Slide and Atlantis Aqua Park are available to book now for dates during the summer. Other activities such as the Giant 3G Swing will remain closed at this stage
Activities & Events
Site Facilities
Diving Information
Centre Information
National Diving & Activity Centre
Tidenham
Chepstow
Gloucestershire
NP16 7LQ

Tel:


email
Please be advised that the NDAC office is closed Monday to Thursday, so emails and phone calls may not be responded to during this time. Depending on when you make your enquiry it may take a few days before we can get back in touch with you.
Please be advised that the NDAC office is closed Monday to Thursday, the main phone line is currently not manned and has no answerphone system in place. Emails are responded to daily so please use our contact form or email with any urgent matters.
Advanced Adventure Diver (SDI) / Advanced Open Water Diver (PADI)

Course Code

NDAC-PADI-AOWD or NDAC-SDI-AAD

Once you have qualified as an Open Water diver you will have the skills necessary to dive safely, however, you may now want to explore special diving interests and gain experience.
In Open Water, you learned the basics of how to scuba dive. The Advanced Adventure/ Open Water programme enhances your skills and allows you to continue your diving education and learn various underwater tasks that will broaden your capabilities as a diver. It's an opportunity to gain more experience and sample different scuba specialities under the supervision of an experienced instructor.
Qualifying as an SDI Advanced Adventure Diver or PADI Advanced Open Water Diver, you can dive to 30m, which gives you access to a much wider variety of dive sites and marine life. Many larger sea creatures are not seen at shallower depths, and wrecks are generally deeper than the 18m maximum depth of your Open Water certification.
Accommodation is available at the NDAC Wooden Wigwam Village >
Rescue Diver Course (PADI or SDI)

Course Code

NDAC-PADI-RD or NDAC-SDI-RD
The SDI and PADI Rescue Diver programmes are a pivotal step in expanding your knowledge and experience. You will learn to look beyond yourself and to consider the safety and well being of other divers. You will learn how to recognize and prevent a diving accident, assess risk and how to respond if an accident happens. The course emphasises flexibility and adapting the diver to personal and environmental conditions.
Rescue Divers will tell you this course is both a challenging and rewarding programme which focuses on adaptation to both personal and environmental conditions. It will make you more confident and prepared in the event of a diving emergency.
Accommodation is available at the NDAC Wooden Wigwam Village >
Learn more and book your place on the ScubaQuest website »
| | |
| --- | --- |
| SDI Computer Nitrox Diver / PADI Enriched Air Diver Speciality | Course Code NDAC-PADI-EAD / NDAC-SDI-CND |

Diving with enriched air nitrox (EANx) is one of the most popular SDI & PADI specialities.
The principle behind this programme is that it enables you to safely extend your no-stop time beyond the no-decompression limits for air at a given depth. Enriched air used conservatively can also reduce the risk of decompression sickness.
So, diving with enriched air means more time underwater, that must be a good thing, right? And you are right, it is! However, the additional considerations of adding extra oxygen to your breathing gas require you to be certified as an Enriched Air Diver to get enriched air fills, safely analyse the gas, properly plan and prepare for diving and then dive within the gas and your limits all of which are covered on the course.
Learn more and book your place on the ScubaQuest website »
| | |
| --- | --- |
| SDI / PADI Deep Diver Speciality | Course Code NDAC-PADI-DD / NDAC-SDI-DD |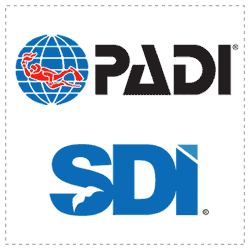 Why dive deep? Maybe it's a wreck that attracts you that's just below 30 metres, or a giant fan or a sponge on a wall reef. Whatever the reason, to scuba dive safely, with confidence at depths down to 40 metres you require additional knowledge and skills that are provided in the SDI and PADI Deep Diver Speciality programme.
Successful completion of the SDI or PADI Deep Diver Speciality will allow you to dive to a maximum depth of 40 meters, the maximum depth for Recreational Divers.
As you'll be venturing deeper into the underwater world, there are inherent risks and a few more considerations. In this course you will learn how to minimise these risks and dive safely to new depths.
Accommodation is available at the NDAC Wooden Wigwam Village >
Learn more and book your place on the ScubaQuest website »
| | |
| --- | --- |
| PADI/SDI Wreck Diver Speciality | Course Code NDAC-PADI-WD / NDAC-SDI-WD |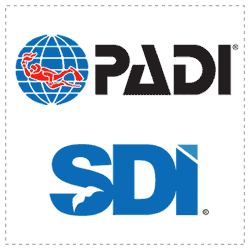 Wrecks are where past and present meet and are fascinating to explore. Whether they are lost in war and steeped in history, lost in accidents or purposely sunk, the call of a wreck is nearly irresistible to divers. They offer amazing opportunities and rewards for divers while often having the added bonus of teeming with marine life. However, while there are often incredible things to see on the outside of the wreck, some of the most amazing sites for divers are inside the wreck.
While you may have undertaken the wreck adventure dive as part of your Advanced Adventure or Advanced Open Water programme and learned about the hazards and safety techniques of wreck diving, you won't be able to penetrate the wreck.

Through the PADI SDI Wreck Diver Specialty course you will learn and practice the skills and knowledge that is vital for safe wreck diving along with the additional skills to enable you to safely penetrate a wreck should you so wish.
Wreck dives for courses held at a coastal location, such as Plymouth or Weymouth, are undertaken from a Charter boat – Please note that boat fees are not included in the course cost. Further information can be provided at the time of booking.
Accommodation at the NDAC Wooden Wigwam Village »
| | |
| --- | --- |
| SDI /PADI Dry Suit Diver Speciality | Course Code NDAC-PADI-DSD / NDAC-SDI-DSD |
Do you only dive through the summer months? UK waters have some of the best diving and most divers like the opportunity to dive all year round, however, the winter and spring water temperatures are often off-putting for those who dive in a wetsuit. If you want to stay warm and toasty when diving and dive all the year round then this is the course for you!
The SDI PADI DrySuit Speciality course is designed to help you develop the skills, knowledge and techniques necessary for safe dry suit diving.
A dry suit seals you from the water and keeps you comfortable, even in cold water. There are some incredible dives to be experienced in the world's cooler regions and in some areas the conditions are best in the colder months. To take advantage of these opportunities, to become a well-seasoned UK diver, and to open up other diving specialities like Ice Diving, an SDI PADI Dry Suit Diver certification is essential.
Accommodation is available at the NDAC Wooden Wigwam Village >
| | |
| --- | --- |
| SDI /PADI Search and Recovery Speciality | Course Code NDAC-PADI-SRD / NDAC-SDI-SRD |

You drop under the water on a mission to find lost sunken treasure… ok, not really. However, the Search and Recovery course can be a useful program to search for marks 'unidentified wrecks,' to cover ground, to seek dropped equipment or to lift that porthole that you have found, one person's trash is another person's treasure, right? Speaking of trash, doing area sweeps to clear rubbish from your local dive spots is ecologically helpful to our underwater world, but useless if you cannot get the trash to the surface.
Covering ground effectively is a skill, covering it quickly and effectively is an art. As a diver time is not on your side so having the skills to search ground efficiently in all visibility conditions is essential. If what you are looking for is too heavy to lift to the surface, then correct rigging and lifting techniques will assist in the lift being successful but more importantly safe.
This specialty is designed to acquaint the diver with the special skills and techniques necessary to successfully plan, execute and evaluate a search and recovery dive.
Accommodation is available at the NDAC Wooden Wigwam Village >
| | |
| --- | --- |
| SDI / PADI Underwater Navigators Speciality | Course Code NDAC-PADI-UN / NDAC-SDI-UN |

Underwater navigation allows divers to make their way back to a special spot discovered on an earlier dive. They use the tricks and techniques of navigation to find an ideal exit point at the end of a dive without the need for an uncomfortable surface swim.
When everyone's buzzing about a reef or checking out a wreck, they're having a great time – until it's time to go and they have no idea where they are or where the boat is!

Underwater navigation can be challenging, but the Underwater Navigation Speciality course fine-tunes your observation skills and teaches you more accurate use of your compass and is designed to give students a greater understanding and experience of how to properly navigate underwater using both natural and compass navigation.
| | |
| --- | --- |
| SDI Advanced Buoyancy Control / PADI Peak Performance Buoyancy Diver Speciality | Course Code NDAC-PADI-PPB / NDAC-SDI-PPB |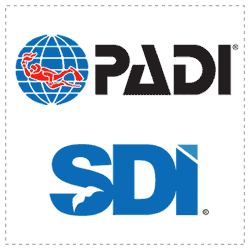 Many divers master their buoyancy skills the long and hard way – wasting valuable dive time, often over or incorrectly weighted and then using up more air than is required trying to control their buoyancy and trim, which limits their underwater time.
Good buoyancy control and trim have the advantage of improving your enjoyment and safety and extending your dive times within your dive limits by improving your air consumption. Also, what cannot be understated is the added benefit of a diver having greater control of themselves within the delicate aquatic environment, thereby preventing damage and destruction.
The SDI Advanced Buoyancy Control/PADI Peak Performance Buoyancy Diver Speciality will teach you the skills and knowledge needed to progress and master your buoyancy past the level of Open Water Diver.
Learn more and book your place on the ScubaQuest website »
| | |
| --- | --- |
| PADI / SDI Night/ Limited Visibility Diver Speciality | Course Code NDAC-PADI-ND / NDAC-SDI-ND |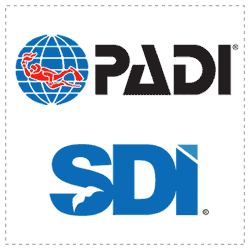 As the sun sets, you don your dive gear, slip on your mask and bite down on your regulator. A deep breath and you step off the boat –and into the underwater night. Although you've seen this reef many times before, this time you drop into a whole new world and watch it come to life under the glow of your dive light.
The adventure, thrill and excitement of night diving can be yours when you complete your Night Diver Specialty course. You learn about night dive planning, equipment and navigation. You practice these on three night dives, plus introduce yourself to the whole new cast of critters that comes out after the sun goes down.

At one point or another, many divers have found themselves alone during a dive, whether it was intentional or not.
SDI's Solo Diving is the practice of self reliant scuba diving without a dive buddy.
Solo diving, once considered technical diving and discouraged by most certification agencies, is now seen by many experienced divers and some certification agencies as an acceptable practice for those divers suitably trained and experienced.
Being one of SDI's most popular courses, the Solo Diver course stresses detailed dive planning, personal limitations, and accident prevention, as well as the benefits, hazards, and correct procedures for diving solo. You will also learn the additional equipment that is required for solo diving including its proper usage and assembly.
| | |
| --- | --- |
| Basic Life Support Training | |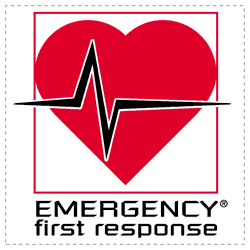 The ability to provide basic life support to someone who is choking, drowning or are suffering from cardiac arrest, can make the difference between life and death. BLS is included in all first aid training courses, along with related life-saving techniques and procedures such as cardiopulmonary resuscitation (CPR).
This skill is especially important for divers as we often find ourselves in remote areas where assistance from emergency services might be some time away.
ScubaQuest offers a range of Basic Life Support training. Please visit the ScubaQuest website for further details of Basic Life Support Training