Posts Tagged 'Langenkamp'
Tuesday, September 12th, 2017
The third film in our Free Horror Movie Series will be….
A NIGHTMARE ON ELM STREET (Cert 18)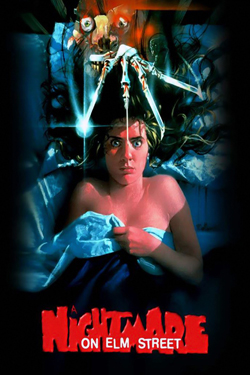 "In Wes Craven's classic slasher film, several Midwestern teenagers fall prey to Freddy Krueger, a disfigured midnight mangler who preys on the teenagers in their dreams – which, in turn, kills them in reality.
After investigating the phenomenon, Nancy begins to suspect that a dark secret kept by her and her friends' parents may be the key to unraveling the mystery, but can Nancy and her boyfriend Glen solve the puzzle before it's too late?"
This 1980's horror classic will be screened at our Drive-In Cinema near Chepstow on the 16th September 2017, 9PM .
To book your FREE Drive-In Cinema tickets please visit the link below and use the redemption code FREDDY
BOOK FREE CINEMA TICKETS HERE »
This film is part of a series of FREE horror movie screenings at our Drive-In Cinema. They are to celebrate the launch of FearFest-Evil​ and to get you in the mood for horror!
Every Saturday during September we are screening a classic horror movie at 9pm for free – That's five free nights of horror!!
To book your free tickets you will need a redemption code. These will be released on our social media channels.
The films will be screened at our Drive-In Cinema, Chepstow at 9pm on the 2nd, 9th, 16th, 23rd and 30th September 2017. Places are limited and will be allocated on a first come, first served basis. Entry limited to one car per booking.