Archive for the 'Events' Category
Friday, October 19th, 2018
Join the Ghost Fishing UK team for a weekend of diving and socials at the National Diving & Activity Centre.
Included with your ticket:
• Ghost Gear retrieval taster workshops and demonstrations (Limited spaces, first come first served)
• Saturday Social: Hog Roast & BBQ (Vegetarian options available
• Guest Speakers, LIVE Open forum
• Video screenings
• Bar, raffle, auction, competitions and fundraisers.
Tickets for Saturday evening event: £25 per person »
Ticket holders receive discounted diving entry at the gate. This is extra and payable on the day. Please have your eventbrite ticket with you.
Ticket holders may apply for limited spaces on the Underwater Workshops. Once you have purchased your ticket, you will receive an email with details of the Underwater Workshops and a link to sign up. 
Slots for diving workshops with the Ghost Fishing UK team are limited, so first come first served. We will notify you when they are full and start a waiting list.
Underwater workshops will be led by the Ghost Fishing Trainers and are free. You will have a taster session of about 25 minutes in water time, of some of the components of the Ghost Fishing course.
This includes basic skills, equipment considerations, survey skills and ghost gear recovery.

Joining criteria for Underwater Workshops:
• In possession of Event ticket (£25 pp)
• Minimum SCUBA qualification: Sports Diver/Rescue Diver or equivalent.
• Nitrox Certification.
• Minimum 50 logged dives.
• Drysuits only. Adequate thermal protection for cold surface temps/6 degree water.
• Own scuba equipment, fully serviceable and in good working order.
• Open Circuit only. No rebreathers.
• Medically fit to dive and able to sign self declaration of fitness for the event.
Please note: Tickets are non refundable.
Date & Time
Sat 5th January 2019, 09:00 – Sun, 6th January 2019, 16:00
About Ghost Fishing
The problem of ghost fishing gear has reached public prominence over the past five years. It is a normal part of fishing that nets, shellfish traps and other equipment becomes lost. This is not a deliberate or careless act on behalf of the fishing community, simply a reality of a very harsh environment. The problem is that the lost gear continues to catch marine life. This has an undocumented effect on the local ecosystem, but is clearly undesirable in any sense. Animals are being needlessly killed.
Ghost Fishing was set up to try to remove this lost equipment from the marine environment. It is a challenging and difficult task. Ghost gear is typically entangled in reefs and wrecks, and its removal can be complicated. The technique involves attaching bags to the gear, which the diver fills with air, making them float. The divers then cut the gear free as close to the seabed as possible. Great care is needed to ensure that the diver does not become entangled with the equipment. This involves a high degree of teamwork, coordination and discipline.
Friday, October 5th, 2018
Ho, Ho, Ho!
This year's Scuba Santas mass participation event will take place on Saturday 15th December at the National Diving & Activity Centre (NDAC)
Sign-in and pay as normal in the shop and register for Scuba Santas in the marquee.
Registration will be from 8.30am
We will have a raffle with a variety of prizes on offer and all proceeds will go to our designated charities.
• DDRC Healthcare
• Headway – the brain injury association
• Headway Gloucestershire/P>
We will also have mince pies and scones on offer.
Monday, August 6th, 2018
Can you hear them?
Because the dolls hear you!
Here's the latest teaser trailer from our halloween horror event, FearFest-Evil, returning this October.
Tuesday, June 26th, 2018
The National Diving & Activity Centre in Chepstow has been awarded a 2018 Certificate of Excellence from TripAdvisor, the world's largest travel site.
Wednesday, April 18th, 2018
Easter Weekend 2018 saw the launch of this terrifying teaser for this Halloween's FearFest-Evil horror event… The Rising!
A cold, creeping shadow stalks its way across the Chepstow hills, enveloping all that remains of the FearFest-Evil site in its lifeless embrace. Deep within the choking shroud, the dead whisper their secrets of an unfathomable horror, ravenous for flesh and thirsty for the oceans of innocent blood needed to bring about… The Rising.
FearFest-Evil is an immersive Halloween event, taking you on a terrifying journey through anxiety-inducing, adrenaline-filled indoor and outdoor environments.
This horror experience is set at theNational Diving & Activity Centre around an abandoned railway line, disused quarry & forgotten woodland.
FearFest-Evil is the ultimate Halloween Scare Experience for only the bravest of horror fans.
FearFest-Evil runs across selected nights in October 2018, from Friday the 12th and including Halloween, tickets and full details are available from the FearFest-Evil website.
Monday, April 16th, 2018
The Aqua Lung iXperience Tour will be coming to the National Diving & Activity Centre over the weekend of the 19th and 20th May 2018.
The Aqua Lung iXperience Tour is your chance to dive the new Aqua Lung range of computers – FOR FREE! (more…)
Wednesday, December 13th, 2017
The team at the horror review site, Scare Addicts, are gearing up to publish their Best of 2017 Awards and are looking for your opinion!
We're really pleased to see that our Halloween Horror Event, FearFest-Evil, has made the shortlist on two categories:
  •  'Best Scream Park of 2017'
  •  'Best Individual Haunt of 2017'
Over 95% of our visitors gave us a five star rating on the event's Facebook page, so if you came along to this year's horror event and enjoyed your experience, we would really appreciated your vote and support.
Polls close at midnight on New Year's Eve and the results will be released on the 1st January 2018.
Voting is really easy and can be done in a few moments,
Wednesday, November 15th, 2017
Special Offer for Scuba Divers selected dates this November and December
As a big thank you for your continued support and loyalty this year, we have reduced our Scuba Diving entrance price from Thursday 15th November to Saturday 16 December by a massive 50%
This means our members will only have to pay £6.50 for a day's unlimited diving with us and non members will have to pay just £9.00.
No catches – just turn up, book in and scuba dive for half the normal price!
We look forward to seeing you at the National Diving & Activity Centre (NDAC) in Chepstow between now and Saturday 16th December. Sunday will be back to full price so we can raise as much as possible for the Scuba Santas Charity event.
This offer cannot be used in conjunction with any other special offers from the NDAC.
Join the Event on Facebook here »
Keep an eye on our website, Facebook Page and Twitter Feed for further offers and promotions throughout the year.
Normal entry requirements for Scuba Diving apply.
Saturday, September 30th, 2017
During October's FearFest-Evil Halloween Horror Event there is limited availability with our onsite accommodation.
On the dates that FearFest-Evil is operating, Wooden Wigwam Accommodation is only available as part of the event's RIP 'Rest-In-Peace' package.
This will be on: 12-15th, 20-22nd, 27-31st October 2017. Midweek dates are still available.
We will also not be accepting Camper Vans on the site from the 12th October until the 31st October due to areas of the site being used for the horror event.
We apologise for any inconvenience and hope that you will join us for what will be a set of fantastic nights out.
For full details of the horror event, please visit the FearFest-Evil website »
Tuesday, September 26th, 2017
The fifth and final film in our Free Horror Movie Series will be….
THE EXORCISM OF EMILY ROSE (Cert 15)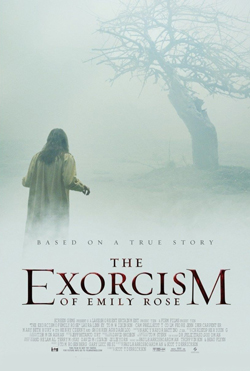 "The Rev. Moore is prosecuted for the wrongful death of Emily Rose (Jennifer Carpenter), a girl thought to be demonically possessed, because he administered the church-sanctioned exorcism that ultimately killed her.
Prosecuting attorney Ethan Thomas (Campbell Scott) contends that the young woman, Emily, suffered from schizophrenia and should have been medically diagnosed. Meanwhile, defence lawyer Erin Bruner (Laura Linney) argues that Emily's condition cannot be explained by science alone."
This horror classic will be screened on Saturday the 30th September 2017, 9PM on our Drive-In Movie Screen near Chepstow.
To book your FREE Drive-In Cinema tickets please visit the link below and use the redemption code ROSE666
BOOK FREE CINEMA TICKETS HERE »
This film is part of a series of FREE horror movie screenings at our Drive-In Cinema. They are to celebrate the launch of FearFest-Evil​ and to get you in the mood for horror!
Every Saturday during September we are screening a classic horror movie at 9pm for free – That's five free nights of horror!!
To book your free tickets you will need a redemption code. These will be released on our social media channels.
The films will be screened at our Drive-In Cinema, Chepstow at 9pm on the 2nd, 9th, 16th, 23rd and 30th September 2017. Places are limited and will be allocated on a first come, first served basis. Entry limited to one car per booking.