Archive for the 'Entertainment' Category
Tuesday, November 6th, 2018
We're really proud to announce that the National Diving & Activity Centre has been shortlisted as finalists for two categories in the 2018 Welsh Hospitality Awards.
• Outdoor Venue of the Year
• Best Entertaining Team
The Welsh Hospitality Awards are a celebration of those who provide residents and visitors with great experiences and enhance the Welsh hospitality industry.
For the full list of finalists, please visit The Welsh Hospitality Awards website »
Monday, October 8th, 2018

The Evil has risen and it wants you!
Here's the latest teaser trailer from our halloween horror event, FearFest-Evil, returning to Chepstow on the 12th October.
Tuesday, September 4th, 2018
To celebrate the launch of FearFest-Evil​ and to get you in the mood for horror, we are hosting a series of FREE horror movie screenings at our Drive-In Cinema in Chepstow.
On 3 Saturdays during September we're screening a classic horror movie at 9:30pm for free!!
To book your FREE tickets to the Drive-In Cinema you will need a redemption code. We will be releasing these codes on the FearFest-Evil social media channels.
Monday, September 3rd, 2018
We will have a free African Drumming workshop at the National Diving & Activity Centre (NDAC) with the amazing Djabot Drumming Group.
Wednesday, August 29th, 2018
UK Bungee Club return to the National Diving & Activity Centre (NDAC) with their 400ft Bungee Jump over the cliffs and water of our Chepstow lake.
This is a special event on the 8th & 9th September 2018 is not to be missed!
Tuesday, August 14th, 2018
Free live music at Chepstow's National Diving and Activity Centre.
On Saturday 18th August we will be hosting The Jumps.
Founded by Del Walker (Drums), current line up of Lisa Harman (Vocals), Paul Brown (rhythm Guitar), Will Sissons (Bass guitar) and Lewis Weyman (lead Guitar) Playing all your classic Rock // Pop // Indie covers from all decades.
This FREE gig will start around 730pm.
We've lots of other live music events planned so keep an eye on the website and our Facebook Events Page.
Wednesday, April 18th, 2018
Easter Weekend 2018 saw the launch of this terrifying teaser for this Halloween's FearFest-Evil horror event… The Rising!
A cold, creeping shadow stalks its way across the Chepstow hills, enveloping all that remains of the FearFest-Evil site in its lifeless embrace. Deep within the choking shroud, the dead whisper their secrets of an unfathomable horror, ravenous for flesh and thirsty for the oceans of innocent blood needed to bring about… The Rising.
FearFest-Evil is an immersive Halloween event, taking you on a terrifying journey through anxiety-inducing, adrenaline-filled indoor and outdoor environments.
This horror experience is set at theNational Diving & Activity Centre around an abandoned railway line, disused quarry & forgotten woodland.
FearFest-Evil is the ultimate Halloween Scare Experience for only the bravest of horror fans.
FearFest-Evil runs across selected nights in October 2018, from Friday the 12th and including Halloween, tickets and full details are available from the FearFest-Evil website.
Wednesday, October 25th, 2017
FearFest-Evil are offering a limited number of FREE LIVE SHOW TICKETS for their final weekend's dates at 5 & 6pm.
These tickets are available on Friday 27th to Halloween Night on Tuesday 31st October.
The Live-Show tickets give you access to the CarnEvil of the Bizarre Freak Show and the Psychic Medium demonstrations at FearFest-Evil
"Oh my life what an evening !! Absolutely fantastic, jaw dropping performances from the Circus of Horrors and heart stopping scares" 5 Stars Helena G
These limited free passes can be redeemed for the Live Show tickets on the following dates and times:
• Friday 27th October 5pm & 6pm
• Saturday 28th October 5pm & 6pm
• Sunday 29th October 5pm & 6pm
• Monday 30th October 5pm & 6pm
• Tuesday 31st October (Halloween Night) 5pm & 6pm

All we ask is that you 'Like' the FearFest-Evil Facebook Page and share this Facebook Post on your Timeline.
To claim your free tickets, please visit the FearFest-Evil Booking Page, select the Live Show ticket plus appropriate date, and enter the promotional code:
FREECIRCUS
There are a limited number of tickets, so be quick to avoid disappointment.
"The Circus of Horrors was amazing. Couldn't believe what I was seeing. Brilliant evening" 5 Stars Noel B
CarnEvil of the Bizarre
The CarnEvil of the Bizarre is an Hourly Live Freak Show from the world famous Circus of Horrors.
Featuring
• The Electric Chair – pumping 300, 000 vaults through a human & lighting fluorescent tubes from parts of their body!
• Cam Dracula
• The Mongolian Laughing Boy – Human Pin Cushion.
• The Girl in the Bottle.
• Beautiful Hula Hoop Girl.
• And more surprises on the night….
Strong language and some scenes of nudity may be part of the CarnEvil of the Bizarre – it's not for the faint hearted!
"Circus of Horrors exceeded my expectations – I am looking up at the tube lighting in my office with fond memories of a naked toothless man doing his bit to save the environment by finding an alternative energy source. Needless to say, I will be sticking with my current suppliers." Faye R

Psychic Mediums
(Every hour the marquee will become silent and the lights will dim)take out
Our Psychic Mediums will give a demonstration and pass on messages from loved ones who have passed over.
Individual Psychic Medium readings are available on the night at an additional cost. Food and Drink are available to purchase and enjoy during the demonstrations from the View Cafe Bar.
"I was petrified all the way through, the Circus of Horrors was the Highlight of my night." 5 Stars Roshelle S 
*Please note, these free tickets do not allow access to the Trilogy of Horrors Scare Zones, the Hangman's Swing or the Death Slide. 
Tuesday, September 26th, 2017
The fifth and final film in our Free Horror Movie Series will be….
THE EXORCISM OF EMILY ROSE (Cert 15)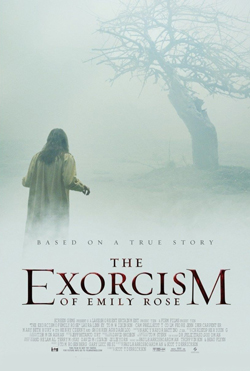 "The Rev. Moore is prosecuted for the wrongful death of Emily Rose (Jennifer Carpenter), a girl thought to be demonically possessed, because he administered the church-sanctioned exorcism that ultimately killed her.
Prosecuting attorney Ethan Thomas (Campbell Scott) contends that the young woman, Emily, suffered from schizophrenia and should have been medically diagnosed. Meanwhile, defence lawyer Erin Bruner (Laura Linney) argues that Emily's condition cannot be explained by science alone."
This horror classic will be screened on Saturday the 30th September 2017, 9PM on our Drive-In Movie Screen near Chepstow.
To book your FREE Drive-In Cinema tickets please visit the link below and use the redemption code ROSE666
BOOK FREE CINEMA TICKETS HERE »
This film is part of a series of FREE horror movie screenings at our Drive-In Cinema. They are to celebrate the launch of FearFest-Evil​ and to get you in the mood for horror!
Every Saturday during September we are screening a classic horror movie at 9pm for free – That's five free nights of horror!!
To book your free tickets you will need a redemption code. These will be released on our social media channels.
The films will be screened at our Drive-In Cinema, Chepstow at 9pm on the 2nd, 9th, 16th, 23rd and 30th September 2017. Places are limited and will be allocated on a first come, first served basis. Entry limited to one car per booking.
Tuesday, September 26th, 2017
We've had to keep this under wraps, but the National Diving & Activity Centre (NDAC) has featured on E4's Don't Tell The Bride
"Thrill junkie Lee plans an extreme wedding for his unadventurous bride Aimee. Will their wedding have the wow factor or crash badly?"
Filmed at the site, the episode features our Water View Marquee and its breathtaking views over our lake, as well as some adrenaline inducing activities!!
The episode aired at 9pm on Wednesday 27th September, but you can watch it online afterwards on E4
If you're looking for a great venue to host your wedding reception or event, please get in touch.