Archive for September 26th, 2017
Tuesday, September 26th, 2017
The fifth and final film in our Free Horror Movie Series will be….
THE EXORCISM OF EMILY ROSE (Cert 15)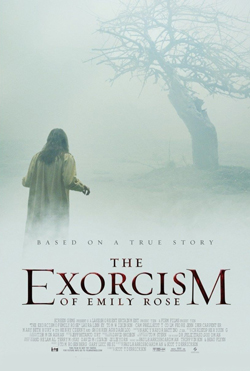 "The Rev. Moore is prosecuted for the wrongful death of Emily Rose (Jennifer Carpenter), a girl thought to be demonically possessed, because he administered the church-sanctioned exorcism that ultimately killed her.
Prosecuting attorney Ethan Thomas (Campbell Scott) contends that the young woman, Emily, suffered from schizophrenia and should have been medically diagnosed. Meanwhile, defence lawyer Erin Bruner (Laura Linney) argues that Emily's condition cannot be explained by science alone."
This horror classic will be screened on Saturday the 30th September 2017, 9PM on our Drive-In Movie Screen near Chepstow.
To book your FREE Drive-In Cinema tickets please visit the link below and use the redemption code ROSE666
BOOK FREE CINEMA TICKETS HERE »
This film is part of a series of FREE horror movie screenings at our Drive-In Cinema. They are to celebrate the launch of FearFest-Evil​ and to get you in the mood for horror!
Every Saturday during September we are screening a classic horror movie at 9pm for free – That's five free nights of horror!!
To book your free tickets you will need a redemption code. These will be released on our social media channels.
The films will be screened at our Drive-In Cinema, Chepstow at 9pm on the 2nd, 9th, 16th, 23rd and 30th September 2017. Places are limited and will be allocated on a first come, first served basis. Entry limited to one car per booking.
Tuesday, September 26th, 2017
We've had to keep this under wraps, but the National Diving & Activity Centre (NDAC) has featured on E4's Don't Tell The Bride
"Thrill junkie Lee plans an extreme wedding for his unadventurous bride Aimee. Will their wedding have the wow factor or crash badly?"
Filmed at the site, the episode features our Water View Marquee and its breathtaking views over our lake, as well as some adrenaline inducing activities!!
The episode aired at 9pm on Wednesday 27th September, but you can watch it online afterwards on E4
If you're looking for a great venue to host your wedding reception or event, please get in touch.